By Shinhye Kang
Jan. 25 (Bloomberg) -- South Korea, Asia's fourth-largest energy user, may spend about 27.5 trillion won ($24 billion) by 2030 building so-called smart power grids.
The private sector is expected to invest 24.8 trillion won, with the balance being met by the government, the Ministry of Knowledge Economy said today in an e-mailed statement.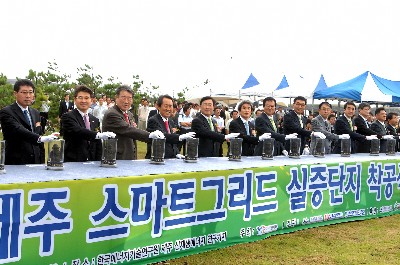 Image Courtesy: ETNews.co.kr
Smart grids deliver electricity to consumers from producers using digital technology that reduces costs, saves energy and increases reliability. General Electric Co. said in February that the market for the networks would grow to $12 billion in five years.
South Korea's adoption of the technology may cut its greenhouse-gas emissions by 230 million metric tons and reduce crude oil imports by 440 million barrels by 2030, according to today's statement. The investment will also create 50,000 jobs a year, it said.
Today's statement also said the government aims to open 27,000 battery charging stations by 2030 for electric vehicles.
Source:
BloomBerg
Read More on
Gov't plans to build nationwide 'smart grid' by 2030 | Yonhap News